Enjoy Christmas Dinner at Rosen Inn at Pointe Orlando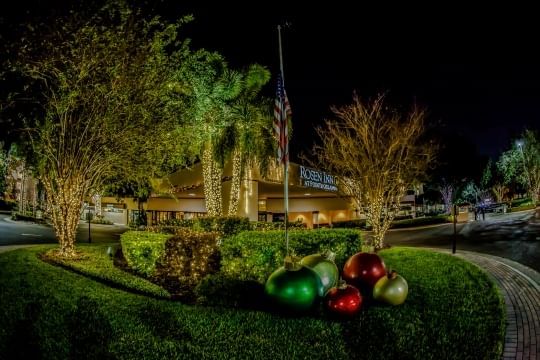 Spend Christmas Day with Rosen Inn at Pointe Orlando and get the gift that keeps on giving in return. We're serving up a generous all-you-can-eat buffet from 4 p.m. to 9 p.m., and you're invited.
Mouthwatering Appetizers
What better way to kick off your Christmas dinner than with some of our finest soups and salads? We're bringing tasty finds like Tuscan white bean and chicken winter lentil soup to the table. Fix your forks on any of our three salad offerings, some of which offer rich tastes of Bartlet pears and pomegranate, and others with cranberry chicken and pecans.
We also offer a variety of fresh fruit and assorted cheeses to snack on before diving into your delicious holiday meal.
Filling Entrées and Rich Sides
Fill your plates with any of our delectable entrées and couple them with some of our savory sides. Christmas favorites like honey baked ham garnished with maraschino cherry compote and a side of roasted garlic whipped potatoes await your appetite.
Whatever it is you fancy this holiday evening, you can find all your favorite and more on our online menu.
Delightful Desserts
After stuffing yourself full of our divine Christmas dinner selections, satisfy your sugary cravings by diving into our desserts. Choose from our chilling ice cream bar, assorted pies, fluffy cakes, cobblers, and plenty of cookies to finish the night strong.
Christmas Buffet Pricing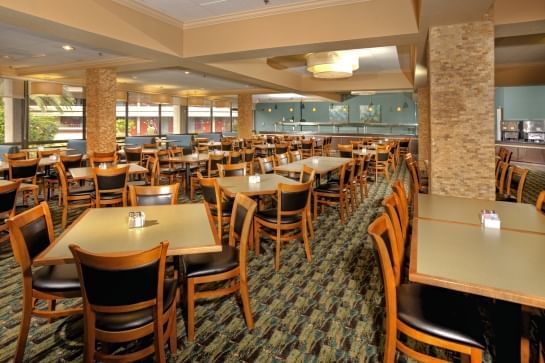 The best part about dining at Plaza Garden's Christmas Day buffet isn't that you're saved from the trouble of cooking for a whole family — it's the fact that you can enjoy endless eats all night long for $29.95 per adult. Even better, kids 5 and under dine for free, making for an affordable and wholesome dinner.
End Your Night at Rosen Inn at Pointe Orlando
You'll need a comfortable place to lay your head Christmas night once you're finished feasting on all your holiday favorites. Save yourself the hassle of commuting and check in at Rosen Inn at Pointe Orlando. Not only are we home to Plaza Garden's unforgettable Christmas buffet, but we're also located in the heart of Orlando's entertainment district on International Drive. Our close proximity to the theme parks and major highways will help make your Christmas vacation in Orlando an unforgettable one.