Epcot International Flower & Garden Festival Blooms in 2023
The EPCOT International Flower & Garden Festival is springing back into action for 2023. The flowery fun returns to Walt Disney World from March 1 – July 5.
Here's what to expect when the beloved theme park event returns this spring.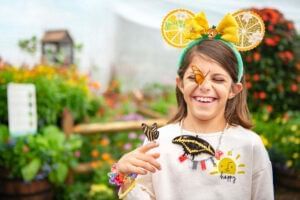 Fab Foliage
As you may guess, gardens and greenery take center stage at the EPCOT International Flower & Garden Festival.
While walking around EPCOT, keep an eye out for terrific topiaries based on your favorite Disney characters. Disney has, so far, only announced a few of the 100+ topiaries that will be displayed in 2023. They include Princess Tiana and members of the Madrigal family from Encanto.
Last year's topiaries included:
Mickey Mouse as the Sorcerer's Apprentice
Buzz Lightyear
Figment
Kermit and Miss Piggy
Captain Hook
Tinker Bell
Anna and Elsa from Frozen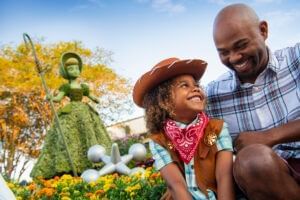 The theme park will also be full of gorgeous gardens and flourishing flower fields.
Many of these gardens are inspired by the part of EPCOT they're planted in. For instance, the World Discovery section typically displays plants grown in innovative ways, such as flower beds that float in a lake. The China section of the World Showcase typically features a bamboo display. In Mexico, you can admire tropical plants, and a garden in the U.K. demonstrates how tea is grown.
Exclusive Food and Drink
EPCOT festivals are known for their inspired culinary options, and the International Flower & Garden Festival is no different.
Over 15 outdoor kitchens around the park will serve event-exclusive dishes.
In 2022, festivalgoers could enjoy:
Chicken yakitori skewers (Japan pavilion)
Barbecue pork tenderloin (Farmers Feast booth, near Test Track)
Crab wontons (China pavilion)
Cajun seafood boil (American Adventure pavilion)
Vegetarian chorizo tostadas (Mexico pavilion)
Grilled pound cake with corn gelato (Canada pavilion)
Vegan tres leches cake (La Isla Fresca, a Caribbean booth between France and Morocco)
Last year's outdoor kitchens also served refreshing alcoholic and nonalcoholic (NA) drinks, including:
A citrus smoothie in a souvenir cup (NA) (The Citrus Blossom, at the World Showcase entrance)
Mead made with local orange blossom honey (Honey Bee-stro, at the World Showcase entrance)
Fruity ales made by Central Florida's Playalinda Brewing Company (multiple locations)
Sangria with tropical fruit (La Isla Fresca)
Matcha and cranberry tea (NA) (Trowel & Trellis, at the World Showcase entrance)
A sake and cucumber cocktail (Japan pavilion)
Froot Loops Shake (NA) (Sunshine Griddle, near Test Track)
Garden Rocks Concert Series
Each year during the Flower & Garden Festival, music lovers flock to the American Gardens Theater for amazing concerts.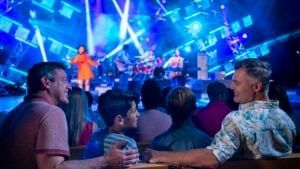 From Tuesday – Thursday, the Garden Rocks concert series will showcase some of Orlando's best musicians. Between Friday and Monday, world-famous acts will take the American Gardens stage. If you've been to the Flower & Garden Festival before, you may see some familiar names on this year's lineup. Acts returning for 2023 include:
Funk and soul legends Kool and the Gang
Pop-punkers Simple Plan
Smash Mouth, of "All Star" and "Walkin' on the Sun" fame
New wave act Berlin
Country-rocker Don Felder from the Eagles
But many other acts will play the Garden Rock Concert series for the first time.
Among the new performers are:
Prog rockers Blue Öyster Cult
Latin pop star Luis Figueroa
Christian rock band Casting Crowns
J. Croce, who will play folk-rock songs by his late father, Jim
Concerts take place at 5:30, 6:45, and 8:00 each evening. The shows are included with your park admission.
Most seating is first come, first served.
But let's say one of your favorite acts is playing, and you absolutely need a good seat. A Garden Rocks dinner package may be for you. These packages start at $35 per person. Most include a three-course meal and soft drink at one of EPCOT's top restaurants. You'll also enjoy guaranteed seating at one of the day's shows.
Reservations are required for most restaurants, but you may be able to buy a same-day package at Regal Eagle Smokehouse. Stop by the restaurant to learn more.
Spike's Pollen-Nation Scavenger Hunt
Each year, festival goers head to Disney Traders or World Traveler to join Spike's Pollen-Nation.
This fun-filled scavenger hunt will take you all around EPCOT, searching for statues of Spike, the friendly bee. To see what the buzz is about, you'll first need to purchase a treasure map from one of the aforementioned stores. Last year, Spike's treasure map cost $9.99.
As you spot Spike around the theme park, place the corresponding sticker on your map.
When you've found them all, return to the store for a sweet prize.
Where to Stay for the EPCOT International Flower & Garden Festival
After a day of flowers, food, and fun, head back to your cozy guestroom at Rosen Inn at Pointe Orlando.
Our Orlando hotel is on International Drive, a short drive or low-cost shuttle ride away from the International Flower & Garden Festival.
Start your epic EPCOT adventure with a filling breakfast at Plaza Garden Restaurant, our on-site buffet where kids 5 and under eat free. When you're not enjoying all Walt Disney World has to offer, stay in and have a blast at our on-site pools, arcade, and playground.
Author: